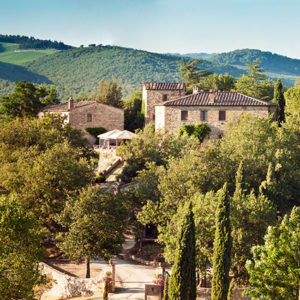 A magical borgo of ancient origins, neglected for too long, but rediscovered in 2000 and rehabilitated with all the style and elegance of Tuscan tradition. Accommodation consists of 11 suites tastefully furnished and fitted out with modern comforts and facilities to offer our guests unforgettable holidays in the peace and quiet of the Tuscan hills
A venue steeped in charm and history, inhabited first by the Etruscans and then by the Romans, from whom it takes its name. Borgo Livernano in Chianti Classico was a fortified outpost during the wars between Siena and Florence that ended in the 17th century. A small, well-preserved Romanesque church dating back to the 11th century remains today
It later became a quiet farming village, but at the end of World War II, following a period of severe poverty, the stunningly beautiful Livernano countryside was abandoned for good in 1953.
The borgo was only restored in 2000, respecting traditional Tuscan materials and methods. Thus was created the elegant paradise we know today, an organic farm with 25 hectares of vineyards growing nine grape varieties and 1,000 olive trees and producing honey, vegetables, and fruit.
Sunk in the woods, is a place beyond the bounds of time where you can let yourself be lulled by a simple, peaceful atmosphere that speaks of ancient, wholesome tales.
At the same time, not far from Livernano, you will find several other small towns and villages, restaurants and renowned wineries offering a multisensory tour of Chianti Classico.
Surrounded by forests, vineyards and olive groves, in the heart of the Chianti hills, between Siena and Florence, Borgo Livernano boasts historic accommodations where you can stay and relive the history of the place.
11 suites furnished in elegant Tuscan style and equipped with every comfort. A modern touch marks the design of all rooms so that you can enjoy unforgettable holidays in the absolute peace of the Chianti Classico district.
.
RESTAURANT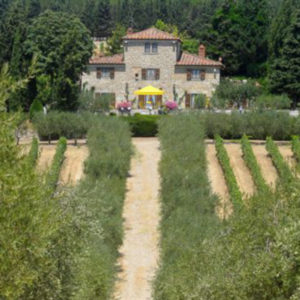 A mouth-watering experience to be enjoyed outside and inside the borgo; enjoy the authenticity of our cuisine inside in a cozily, romantic space or outside on the terrace with a stunning view over the Tuscan hills.
.
PRODUCTS FROM THE LANDS
Today, Livernano is an organic farm that produces high-quality wines, excellent olive oil, honey, vegetables, and fruit. Its 25 hectares of vineyards have been planted with nine different grape varieties. The age-old olive groves have been restored and currently accommodate around 1,000 olive trees of Italian varieties. The remaining 60 hectares consist of woods surrounding the property.
.
WINERY
The Casalvento winery, in the heart of the Chianti Classico district, has been owned by entrepreneur Robert Cuillo and his wife Gudrun since 1997. The Cuillo family has brought the estate back to life through a restoration operation that has returned the place to its original splendour. Together with Livernano, purchased in 2002, Casalvento has formed a single item since 2013.
EVENTS
An enchanting venue, immersed in beauty and an enhancement to any event, whatever it may be. Our staff is there to assess your needs and tastes and make your event unforgettable.
.
CONTACT
.
Borgo Livernano
Località Livernano 67/a, 53017,
Radda in Chianti (SI)
Email: info@livernano.it
Tel +39 0577 738 353
.
Casalvento Winery
Località Livernano 67/a, 53017,
Radda in Chianti (SI)
Email: info@casalvento.net
Tel +39 0577 738 967